Six WWF officials are kidnapped in Indian national park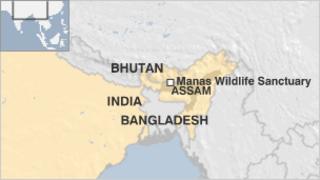 Armed gunmen have kidnapped six officials of the World Wide Fund for Nature (WWF) from Manas national park in north-eastern India, officials say.
The abductions from the game reserve came within a few hours of a decision by Bodo tribal groups to renew their campaign for a separate state.
Officials say the kidnappings were carried out by 20 armed men on Sunday.
The six - including three women - were carrying out an elephant and tiger census when they were abducted.
A WWF-India official said that all six were Indian nationals.
Officials say that they were accompanied by members of a local wildlife protection group, who were "chased off" by militants.
The identity of the masked militants is not known, but officials say that a huge manhunt has now been launched by police.
Manas is home to 22 of India's 41 endangered wildlife species including rare wild pigs, birds, and one-horned rhinos.
There are an estimated 70 tigers in the park, which adjoins the foothills of Bhutan.
The abductions came within a few hours of the All Bodo Students Union (Absu) announcing their intention to renew their campaign for a separate state for the Bodo tribespeople.
The Absu started a violent movement for a separate state in 1987 which involved bombing public transport and other crowded places.
More than 2,000 people died in the campaign before Absu and other Bodo groups settled for an autonomous Bodoland Territorial Council (BTC) within Assam in 2003.
The Assam government has put security forces in the western part of the state covering the BTC on high alert.