Mumbai court to rule on appeal by gunman Mohammad Qasab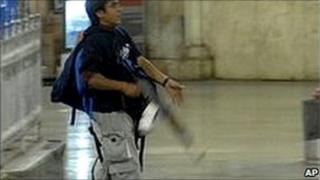 The Bombay High Court has announced when it will decide whether the death penalty for the sole surviving gunman of the 2008 Mumbai attacks will stand.
Mohammad Ajmal Amir Qasab, a Pakistani national, is contesting the sentence passed in May 2010. The court will rule on 21 February.
More than 170 people died when Qasab and nine other militants attacked various targets.
Qasab was found guilty of mass murder and waging war against India.
The high court said it was still compiling some documents relevant to the case and would announce its judgement in a fortnight, prosecutor Ujjwal Nikam said.
The court has to confirm the death penalty awarded by the lower court.
It will also rule on Qasab's appeal against his conviction.
If Qasab loses, he has the right to appeal to India's Supreme Court, and then to India's president.
Ten gunmen attacked Mumbai on 26 November 2008. All of them except Qasab were killed during the attacks.
He and an accomplice carried out the assault on the city's main railway station, killing 52 people.