Top India and Pakistan diplomats meet in Bhutan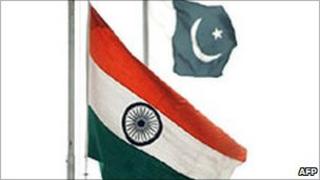 The heads of the diplomatic services of India and Pakistan have met in Bhutan, in the first high-level talks between the two countries since July.
Indian Foreign Secretary Nirupama Rao met her Pakistani counterpart Salman Bashir on the sidelines of a South Asian regional meeting.
The countries, however, failed to set any dates for resuming peace talks stalled since the 2008 Mumbai attack.
The attacks left 174 people - including nine gunmen - dead.
They soured ties between the neighbours, with India blaming Pakistan-based militant group Lashkar-e-Taiba for the gun and grenade attacks at several locations.
'Useful and frank'
At the meeting in Bhutan's capital Thimphu, India and Pakistan were expected to set a date for a meeting between their foreign ministers, but that did not happen.
Ms Rao and Mr Bashir had "useful and frank discussions" on steps needed to resume the dialogue, Vishnu Prakash, spokesman for India's external affairs ministry, said.
The foreign secretaries "agreed on the need for a constant dialogue between India and Pakistan to resolve all outstanding issues", he said.
After initial denials, Pakistan acknowledged that the Mumbai attacks had been partially planned on its territory and that Mohammad Ajmal Amir Qasab, the sole surviving gunman, was one of its citizens.
In 2009, Pakistan charged seven people in connection with the attacks, including the suspected mastermind Zaki-ur-Rehman Lakhvi, who is alleged to head Lashkar-e-Taiba.
Pakistan and India have slowly been improving ties.
But talks between the foreign ministers of India and Pakistan ended in acrimony in Pakistan in July with the two sides indulging in a public spat over the contentious issue of Kashmir.