Karachi police swoop on suspected 'target killers'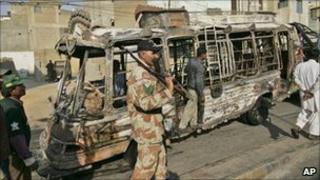 Police in Pakistan's southern port city of Karachi have arrested three men accused of carrying out targeted political killings.
Two of the men are accused of shooting 13 people to death during recent politically-motivated attacks.
The third man is accused of providing arms and ammunition for such attacks in the city.
At least 775 people died in political and sectarian shootings and bombings in Karachi in 2010, rights groups say.
"Two of the men have directly participated in the killings," police Superintendent Raja Umar Khattab told the BBC.
"We have been able to identify at least 13 people who were murdered by them."
Mr Khattab said that one of their victims was a one-year-old girl who was killed when the suspects opened fire on a passenger bus last month.
At least four other people also died in that attack.
Mr Khattab is the head of the Special Investigation Unit (SIU), an elite police anti-terror squad.
He said that the two men were also involved in incidents of arson and siege in Karachi.
The third man is said to be a major supplier of arms to all groups involved in targeted killings in Karachi.
However, the police have not yet identified which political group or party the men are affiliated with.
Political sensitivities remain high over such arrests.
A row broke out in December between coalition partners the Pakistan People's Party (PPP) and the Muttahida Quami Movement (MQM) over the killings.
It happened after Sindh province Home Affairs Minister Zulfiqar Mirza told a gathering of businessmen that dozens of men who had been arrested for targeted killings in the city belonged to the MQM.
The MQM subsequently walked out of the ruling coalition, precipitating a national political crisis.