Pakistan court extends custody of US man Raymond Davis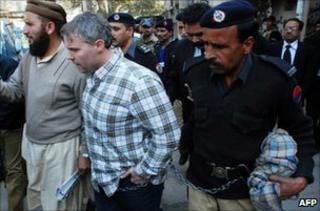 A Pakistani court has extended the detention of a US citizen arrested for killing two men in Lahore last week by another eight days.
Raymond Davis was produced in the Lahore High Court amid tight security.
On Tuesday, the court barred officials from freeing Mr Davis and ordered them to place his name on the "exit control list" to stop him leaving Pakistan.
The US embassy has called for Mr Davis to be freed, saying he has diplomatic status and is immune from prosecution.
Mr Davis has admitted that he shot the men but says he acted in self-defence because they were trying to rob him.
'Further investigation'
"We produced the American in the court of magistrate Zafar Iqbal, who extended his remand in police custody to another eight days," the AFP news agency quoted public prosecutor Abdus Samad as saying.
The authorities have been ordered to produce Mr Davis in court on 11 February.
"We have to conduct further investigations, which necessitates extension in the remand," Mr Samad said.
The BBC's M Ilyas Khan in Islamabad says Mr Davis is being charged on two counts - murder and possession of illegal weapons.
Thursday's hearing was about the murder case. In the illegal weapons case, which is a bailable offence, the court sent Mr Davis to a 14-day judicial remand on Tuesday.
Pakistan's government has asked the court for time to determine whether Mr Davis has diplomatic immunity or not.
The authorities previously said he was not among foreign security personnel authorised to carry firearms in the country.
The US embassy in Islamabad has argued that he is a consulate employee who acted in "self-defence when confronted by two armed men on motorcycles" on 27 January.
Mr Davis is said to have told police that the motorcycle rider and his pillion passenger tried to hijack his vehicle at gunpoint.
As Mr Davis' colleagues came to his aid, their vehicle ran over and killed a third person.
Lawyers in Lahore have filed a petition to the High Court arguing that Mr Davis must stand trial in Pakistan and not be handed over to the US government.