Pakistan urged to free schoolboy arrested for blasphemy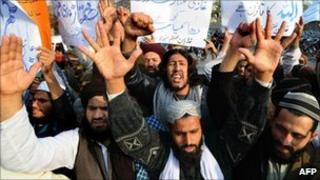 Human Rights Watch has called on the Pakistani government to release a teenager who has been charged under the country's controversial blasphemy law.
Muhammad Samiullah, 17, is under arrest in the southern city of Karachi.
He is accused of blaspheming against the Prophet Muhammad in an examination paper. Human Rights Watch called the boy's case "truly appalling".
The blasphemy law has been in the spotlight since a Christian, Asia Bibi, was sentenced to death in November.
She denies insulting the Prophet Muhammad in her Punjab village in June 2009.
In January, a bodyguard of Punjab governor Salman Taseer assassinated him for supporting calls to amend the law, leading to what correspondents say is a climate of fear with few people daring to even mention the legislation.
Critics of Pakistan's blasphemy law say it has been used to persecute minority faiths in Pakistan, and is sometimes exploited for grudges.
'Mind boggling'
"Pakistan has set the standard for intolerance when it comes to misusing blasphemy laws, but sending a schoolboy to jail for something he scribbled on an exam paper is truly appalling," said Bede Sheppard, senior children's rights researcher, at Human Rights Watch.
"It's bad enough that a school official flagged it, but for police and judicial authorities to go ahead and lock up a teenager under these circumstances is mind boggling."
The alleged incident, reported by an invigilator, took place during high school final examinations, called intermediate exams, in Karachi's North Nazimabad neighbourhood.
Police officials said they arrested Muhammad Samiullah after a complaint was lodged by the chief examiner of the intermediate board on 28 January.
He was later produced in court where the magistrate sent him to juvenile detention, while police pursue their investigations.