Stricken Indian warship 'to be salvaged'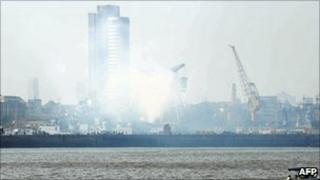 Indian naval authorities say they hope to salvage a 3,000-tonne warship which ran aground on Monday after colliding with a merchant ship.
The INS Vindhyagiri collided with a Cyprus-flagged merchant vessel on Sunday in Mumbai and caught fire.
The incident has been described by critics as one of the navy's most embarrassing peacetime incidents.
About 400 passengers and crew who were on board the warship at the time of the collision had to rescued.
Some media reports say that the stricken ship sustained serious damage when it hit the seabed at the naval dockyard in Mumbai, but there has been no official acknowledgement of the damage.
At the time of the accident, the warship was returning from a "day at sea" for families of sailors and officers.
The navy says it has registered a case against the captain and crew members of the merchant vessel. They are accused of negligent navigation, causing injuries and endangering the lives and personal safety of others.
The navy says that it is also conducting an independent inquiry into the incident.
"It is very difficult to gauge the extent of damage at this point. But we will involve our technical agencies to salvage the ship. Firstly, it has to be made lighter by pumping the water and fuel out. Then we can carry out further operations," a navy spokesman said.
A coastguard spokesperson said that the possibility of an oil spill had been averted because the ship was in a tidal basin and river booms had been deployed to stop any movement of oil.
"There is no chance of any spillage spreading as the area is part of naval dockyard," he said.