Pakistani soldier killed in Afghanistan border clash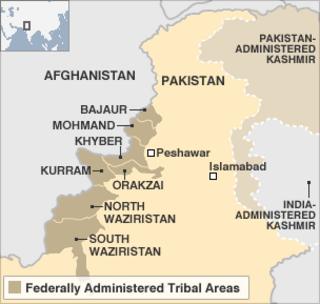 A Pakistani soldier has been killed and three wounded in a clash with Afghan forces on the border, Pakistani officials say.
The clash occurred in the Ghulam Khan area in Pakistan's North Waziristan region, an area considered to be a sanctuary for al-Qaeda and the Taliban.
Correspondents say it is the most serious cross-border clash between the two countries since May 2007.
On that occasion, three civilians and a policeman were killed.
Afghanistan and Pakistan are routinely at loggerheads over border security, accusing each other of allowing militants to infiltrate the porous and mountainous frontier to carry out attacks.
Afghan and Western officials say the nine-year Taliban insurgency in Afghanistan is sustained because militants are able to operate from the sanctuaries in Pakistan's tribal belt.
'Completely unprovoked'
Officials of the two countries accused each other of starting the firing on Wednesday.
"At around 1100 [0630 GMT] on Wednesday, Pakistani troops in Waziristan started firing heavy and light weapons towards police posts in Gurbuz district. Our soldiers returned fire," a border police commander in Afghanistan's eastern province of Khost told the AFP news agency.
"Their attack was completely unprovoked and without reason. The fighting is still continuing, there [have not] been casualties on our side."
But a Pakistani military official in the nearby city of Peshawar gave a different version of events.
He told AFP that "Afghan forces fired several mortar shells on one of our military check posts, leaving one soldier dead and injuring three others".
"We fired in retaliation," the officials said, "our troops are using artillery and mortars."