India social worker Sandeep Pandey returns top award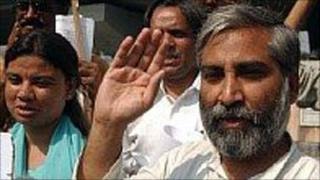 A leading Indian social worker has returned a prestigious government award in protest against corruption.
Ramon Magsaysay award winner Sandeep Pandey was honoured for his raising awareness about the government's jobs-for-work scheme.
One of the world's biggest social welfare schemes, it guarantees 100 days of work a year for every rural home.
Mr Pandey returned the award in protest against "embezzlement" of funds meant for the poor in Uttar Pradesh state.
In a statement, he pointed to the "political patronage being given to corrupt and criminal practices" in Hardoi district.
He said the husband of a village council head had stolen 620,000 rupees ($13,586) of government funds and beaten up villagers "in full view of the police" when they protested two years ago.
"Yet no action has been taken in this case to date. The criminalisation of politics and the influx of corruption in day to day working of government schemes is indeed very sad," Mr Pandey said.
Mr Pandey won the Ramon Magsaysay award in 2002 for his projects to help poor children in India.