Rights group accuses India of abusing terror suspects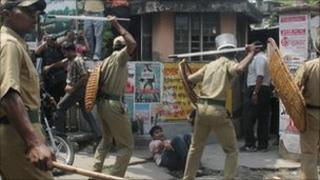 Indian security forces are accused of torture, religious discrimination and arbitrary arrests in a new report.
Human Rights Watch said India should reform its justice system to ensure that abuses did not take place during counter-terrorism efforts.
Abuses were commonplace after a spate of bombings in Delhi, Jaipur and Ahmedabad in 2008, the report said.
It warned that abusive counter-terrorism tactics could backfire. The Indian government refused to comment.
The home ministry "does not react to comments made by human rights groups", Associated Press quoted a ministry spokesman as saying.
'Unfortunate reality'
The 106-page report - The "Anti-Nationals": Arbitrary Detention and Torture of Terrorism Suspects in India - was released in the Indian capital, Delhi, on Wednesday.
"Indian police are under tremendous pressure to identify the perpetrators of horrific attacks, but they need to do so without resorting to the use of arbitrary arrests and torture to coerce confessions," Meenakshi Ganguly, South Asia director at Human Rights Watch, said.
The report's co-autor, Letta Tayler, told the BBC that "the unfortunate reality is that terrorism remains ongoing in India and abusive counter-terrorism tactics can backfire, alienating local populations".
The report is based on more than 160 interviews with suspects, their relatives and lawyers, civil society activists, security experts and law enforcement officials, Human Rights Watch says.
The study says that a majority of victims were Muslim men detained after the blasts in Delhi, Jaipur and Ahmedabad.
They were accused by police of being members of the Indian Mujahideen militant group which said it was behind the attacks.
But suspected Hindu militants who were blamed for an attack in the western city of Malegaon also faced abuse, the report said.