Policemen killed in Balochistan clash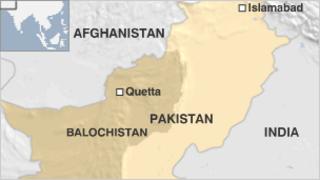 Five policemen have been killed in an overnight clash with unidentified gunmen in Pakistan's southern province of Balochistan.
The clash happened on a highway in the Mach area after the kidnapping of a top administration official in the region.
Unknown gunmen kidnapped the deputy commissioner of Jhal Magsi district, Shaukat Margzani, and two guards when they were travelling in a vehicle.
Balochistan has been at the centre of a decade-long separatist insurgency.
The dead in the overnight clash included the head of the local Jafferabad police station, police said.
In December, a suicide bomber tried to kill the chief minister of Balochistan, blowing himself up near his convoy.
At least one person died in the blast but Chief Minister Nawab Muhammad Aslam Khan Raisani escaped harm as he was in another vehicle.
And earlier that month, provincial Governor Nawab Zulfiqar Magsi had a lucky escape when his convoy was hit by a roadside bomb in Kalat district.
The Baloch Liberation Army, an insurgent group, said it carried out that attack.