Nine killed in Peshawar explosion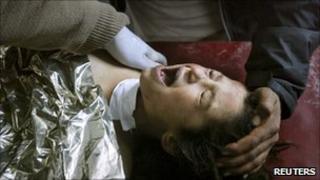 At least nine people have been killed in a bomb attack near a police station in the north-western Pakistani city of Peshawar, police say.
About 20 others were injured in the blast on Wednesday morning, in a commercial area in a city suburb.
The explosion destroyed a vehicle and damaged a nearby shop, police said.
Militants linked to al-Qaeda and the Taliban have killed hundreds of people in attacks in the north-west and elsewhere in Pakistan in recent years.
It was the third major bombing blamed on the Taliban in or near Peshawar in the past week. They have targeted government installations and the security forces.
Police say that the bomb tore through a packed market near the police station.
"It was a timed bomb. The target was police. He [the bomber] parked the car here due to the rush," senior police official Mohammad Ijaz Khan told reporters.
Another attack
Correspondents say that the latest attacks undermine recent police claims of progress against militants in the region.
The blast went off on the main road leading to Pakistan's border area with Afghanistan, government official Siraj Ahmed Khan told the AP news agency. He said that three children were among the dead.
The intended target of the bombing was not immediately clear.
In another attack in the north-west, a group of militants attacked a security post in the Anarggi area of Mohmand tribal region, government administrator Javed Khan told AP. Three paramilitary soldiers were killed and four wounded.
He said that troops returned fire and killed 16 insurgents. There is no way of independently confirming the figures.
Mohmand has seen anti-militant offensives by the Pakistani army over the past three years.