Police accuse Kashmir militants of killing two sisters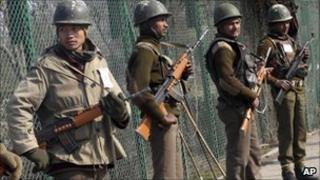 Police in Indian-administered Kashmir have accused separatist militants of killing two sisters in the town of Sopore, north of Srinagar.
They said that three militants entered the home of their father and kidnapped them before shooting them dead about 500m from their home.
Police say the militants suspected the two sisters, 22 and 20, were providing information to Indian security forces.
No militant group has so far said it carried out the killings.
However, police say two of the militants involved have been identified and are residents of Sopore. The third militant is suspected to be a foreigner. None has so far been caught.
The BBC's Altaf Hussain in Srinagar says that such incidents have become very rare over the past few years.