Pakistan court blocks move to release US man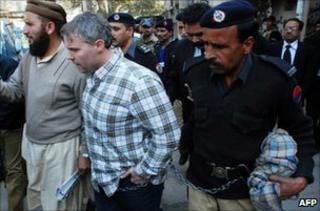 A Pakistani court has ordered officials not to free a US citizen arrested for killing two men in Lahore last week.
The Lahore high court also ordered the government to place the name of Raymond Davis on the "exit control list" to prevent him from leaving Pakistan.
The US embassy has called for Mr Davis to be freed, saying he has diplomatic status and is immune from prosecution.
Mr Davis has admitted that he shot the men but says he acted in self-defence because they were trying to rob him.
He is in custody while police investigate the shooting and has been charged with the murder of the two men.
"I am restraining him [from being handed over to US authorities]. Whether he has or does not have [diplomatic] immunity will be decided by the court," the AFP news agency quoted Lahore chief justice Ijaz Ahmed Chaudhry as saying.
"An order is issued to put his name on the exit control list. The case is adjourned for 15 days," he said.
Pakistan's government has asked the court for time to determine whether Mr Davis has diplomatic immunity or not. The authorities have previously said he is not among foreign security personnel authorised to carry firearms in the country.
Tougher stance
The US embassy in Islamabad has argued that he is a consulate employee who acted in "self-defence when confronted by two armed men on motorcycles" on 27 January.
Mr Davis is said to have told police that the motorcycle rider and his pillion passenger tried to hijack his vehicle at gunpoint.
As Mr Davis' colleagues came to his aid, their vehicle ran over and killed a third person.
Lawyers in Lahore have filed a petition to the High Court arguing that Mr Davis must stand trial in Pakistan and not be handed over to the US government.
The BBC's Syed Shoaib Hasan in Pakistan says that speculation is rife over the true position of Mr Davis.
Our correspondent says that the US authorities pursued a soft tone immediately following the incident, but they have now hardened their stance and argued that he should be released according to the Vienna Convention.
Pakistani authorities say it increasingly appears that Mr Davis was a private security contractor working for the US government in Pakistan.
They said that a Glock pistol was recovered from Mr Davis and that pistols were also found on the two men who were shot dead.
Mr Davis's permanent employer, according to the Huffington Post website, is a company called Hyperion Protective Consultants LLC based in Orlando, Florida.