New South Asian anti-trafficking group is formed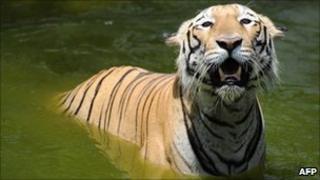 A conservation group has welcomed what it says is a "milestone" decision by eight South Asian countries to share information on wildlife trafficking.
A spokeswoman for the Traffic anti-smuggling body said the move was "an essential effort to conserve a region of outstanding biological richness".
The agreement to form the South Asia Wildlife Enforcement Network (Sawen) was made in Bhutan at the weekend.
Decades of poaching have decimated the wildlife population of South Asia.
Tigers, elephants and rhinos are all under threat.
"Sawen will help Bhutan to link up with authorities and officials across the region to share good practices and resources to co-operate and co-ordinate actions to apprehend poachers and traffickers," Pema Jamtsho, Bhutan's Minister for Agriculture and Forests said in the statement.
Backers say that India, Nepal, Afghanistan, Pakistan, Bhutan, Sri Lanka, the Maldives and Bangladesh will for the first time share information on poaching and wildlife trafficking.