Sri Lankan fishermen captured by Somalis plea for help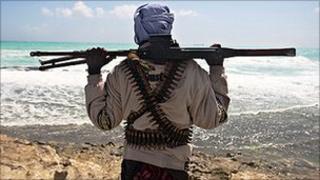 Three Sri Lankan fishermen captured by Somali pirates have released a desperate call for help after two of their colleagues were murdered.
Sri Lankan maritime authorities say that the trio have made radar communication with them.
They said that the pirates have thrown the bodies of two fishermen overboard after shooting them dead.
Meanwhile, two other Sri Lankan fishermen earlier captured by Somali pirates were reportedly released.
Lal de Silva, Assistant Director of Fisheries Department told the BBC Sinhala service that five fishermen set sail on 4 January from southern Sri Lanka.
"The group and their boat were captured by the pirates on 27 January," he said.
"We currently do not know where the captured fishermen are kept."
The fisheries ministry has now asked the foreign ministry to take action to get the captured fishermen released, he said.
The Sri Lankan authorities say that they have yet to make contact with the pirates as the appeal was only received on Sunday.
Pirates took a record 1,181 hostages in 2010, despite increased patrolling of the seas, the International Maritime Bureau (IMB) recently said.
It said 53 ships were hijacked worldwide - 49 of them off Somalia's coast - and eight sailors were killed.
The Sri Lankan fishing ministry has repeatedly urged fishermen not to enter any other country's waters because of the dangers involved.