Egypt: India and Pakistan move to help nationals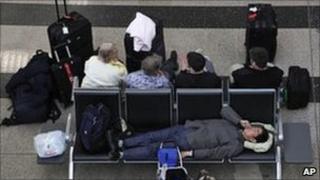 Efforts are being made to bring hundreds of Indians and Pakistanis stranded in Egypt back home, officials have told the BBC.
It is not clear exactly how many Indians are in Egypt, but the first 300 to flee the country arrived in Mumbai (Bombay) on Monday.
The Pakistani embassy in Cairo says that at least 700 Pakistani nationals are trapped because of the protests.
Most are white collar workers who have not left home during the rioting.
'Relieved to be back'
The reaction of Indian workers and travellers arriving in Mumbai on Monday was one of overwhelming relief.
"I was very worried for two to three days, especially at nights. We were really scared. My wife and two children were with me. It was really stressful and we are relieved to be back," Sukhbir Singh from Delhi told the BBC.
Tourist Jigar Sethia said that she arrived in Egypt on 25 January, but it was not until 27 January that things "became bad".
"We reached Cairo airport on Sunday morning. All the Egypt Air flights were cancelled. I paid huge amount for this Air India flight but we had to come back as soon as possible," he said.
Many of those arriving in Mumbai pointed out that while the airport in Cairo was crowded and chaotic, people were kind to Indians and tourists.
The Pakistani ambassador in Egypt told the BBC efforts were being made to arrange for chartered flights to bring the nationals home.
"We just want to get out at the earliest," Furqan Hasan, a Pakistani stranded in Cairo told the BBC.
"Others countries have evacuated their nationals, but we are still waiting."
Many of those trapped say the situation is getting worse by the day.
Mohammad Aamer, a resident of Karachi, said water and food supplies were running low.
"The security has also considerably deteriorated - gangs of criminals are running amok in many neighbourhoods," he said.
"I live in a compound with other Pakistanis and we have banded together to protect our families from the violence.
"We thought the situation would improve in a few days, but there appears to be no end to it."