Bangladesh: Clashes over Dhaka airport plans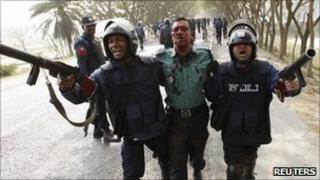 Police in Bangladesh have fired tear gas and rubber bullets to disperse villagers protesting against government plans to build a new airport south of the capital Dhaka.
The farmers, whose land the government wants to acquire for the project, set fire to a police camp, burned a police vehicle and blocked roads.
One policemen was killed and more than 50 people injured in the clashes.
The government says the farmers will be adequately compensated for their land.
Critics of the plans say the country's existing airports are not operating at capacity.
Police say about 20,000 villagers demonstrated on Monday against plans to build Bangabandhu International Airport, in Munshiganj district.
Protesters, some armed with sticks and axes, attacked police at the site in Srinagar sub-district, 40km (25 miles) south of the city.
Villagers say they will lose homes and farmlands.
The government wants the planned airport to be named after independence leader Sheikh Mujibur Rahman - the father of current Prime Minister Sheikh Hasina.
He was killed along with most of his family members in a coup in 1975, four years after Bangladesh won independence from Pakistan.