Offices of anti-government Lankaenews.com set on fire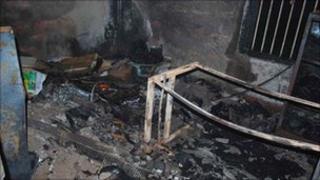 Unidentified attackers in Sri Lanka have set fire to the offices of a website critical of the government.
The staff at Lankaenews.com website had been coming under threat for some time. Police are now guarding the bungalow which the website uses as its office.
The attackers broke the door and burned the rooms where the stock of newspapers going back 20 years was kept.
The attack at about 2am (2030GMT) came six months after a TV station owned by opposition supporters was fire-bombed.
Like earlier attacks on media premises, this one came in the middle of the night.
At dawn the website's photographer, Sanjay Dassanayake, took pictures inside the building.
They show mangled and burnt-out wreckage.
"It is well to note that under the President Rajapakse regime the free media had suffered most and sustained losses to persons and property on an unprecedented scale in the media history of Sri Lanka," a statement released by the website said.
Mr Dassanayake said that "all the computers [were] destroyed and we had a mini-library. And all the documents we had, that means all papers, all books and things like that, were all destroyed".
President Mahinda Rajapaksa has ordered the police to launch an urgent inquiry.
Communications Minister Keheliya Rambukwella said that the attack "was carried out by a group in an attempt to destroy the image of the Government in the eyes of the people".
"They committed this heinous crime... to direct the blame on the government and to create problems for us," he told the Daily Mirror newspaper.
The website's news editor, Bennett Rupasinghe, told the BBC that the site had written many stories critical of what he said was corruption, wastage and cheating "especially on the part of the government".
"We had a lot of threats, varied threats, even before this incident.
"People came here and snooped around two days ago so we could easily say this was well planned," he said.
Last year, the website editor fled the country after getting threatening phone calls.
"Our editor was questioned several times by the Criminal Investigation Department. He went into exile because during the last presidential election, he got threatening phone-calls and emails and vehicles with no number plates had been visiting our office premises," Mr Rupasinghe added.
One of the website's writers, Prageeth Eknaligoda, vanished without trace, the victim of suspected abduction.
The human rights group Amnesty International says that at least 14 media workers have been unlawfully killed in Sri Lanka in the past five years.