Policeman dies in Pakistan attack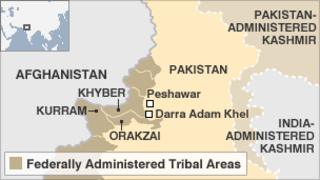 Police in north-western Pakistan say a senior police official has been killed in a suicide bomb attack.
The deputy police superintendent for southern Peshawar died along with his driver and a guard when the suicide bomber attacked his car.
A dozen other people were injured in the incident.
Militants linked to al-Qaeda and the Taleban have killed a number of police and security officials in the region which borders Afghanistan.
A senior local official told the AFP news agency that the attacker targeted a police van on a patrol on the outskirts of Peshawar.
"The bomber was a teenager, he came on foot and blew himself up near the police van," Siraj Ahmed said.
Hours later, another police vehicle hit a roadside bomb on the outskirts of the city, killing one policeman and wounding several others.
No group has claimed responsibility for the attacks, but militants linked to al-Qaeda and the Taliban have killed many police officials and security officers spearheading operations against their bases in the turbulent region bordering Afghanistan.
Peshawar has been the scene of frequent attacks by the Taliban who have targeted government installations and the security forces.