India condemns US for radio-tagging duped students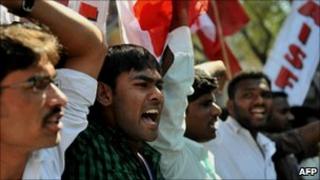 India has condemned US authorities for tagging Indian students who, it says, were duped by a fake university.
External Affairs Minister SM Krishna said Indian students were "not criminals" and that radio collars put around their ankles must be removed.
US authorities have shut down the Tri-Valley University near San Francisco, accusing it of an immigration fraud.
The university has more than 1,500 students and reports say nearly 95% of them are from India.
Most of the students are reported to be from the southern Indian state of Andhra Pradesh and many of them now face deportation.
In the state capital, Hyderabad, members of the All India Students' Federation have demonstrated against the Tri-Valley University near the US consulate.
"We demand that the US government initiate severe action against those officials responsible for this inhuman act," Mr Krishna told reporters in the southern city of Bangalore on Sunday.
"Indian students are not criminals. The radio collars should immediately be removed," he said.
"We have conveyed to the US authorities that the students, most of who are victims themselves, must be treated fairly and reasonably," the ministry said in a statement.
The students have been forced to wear radio collars around their ankles so that the US authorities can keep track of their movements.