Pakistan hosts ski tournament in former Taliban area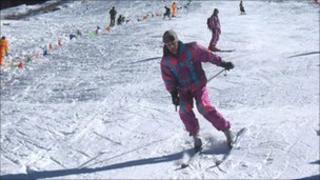 Pakistan is hosting its first skiing tournament for three years in the Swat valley - the area previously controlled by the Taliban.
Six Pakistani teams are taking part in the competition near the village of Malam Jabba, in the north-west.
The army-run resort - which had been popular with local and foreign tourists - fell under the sway of the Taliban in 2006 and was later blown up.
The army routed the militants in 2009, but clashes continued last year.
The country's only ski resort has now been rebuilt and is fully operational.
'Haven for tourists'
"We had invited teams from across Pakistan but all of them could not take part," Matiullah Khan, President of Pakistan's Skiing Federation, told the BBC.
"At the moment, six teams from the Khyber Pakhtoonkhwa province are participating. Teams from Lahore and Rawalpindi have said they will reach the venue soon."
An official from Khyber Pakhtoonkhwa's government said the aim of organising the skiing festival was to show the rest of Pakistan and the world that peace had been established in Swat.
"We hope the valley will once again become the haven for tourists that it once was," he said.