Author Damon Galgut boycotts Sri Lanka book fair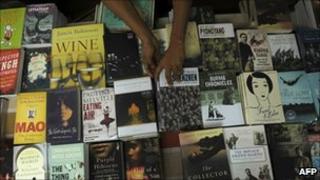 A book festival in Sri Lanka has been marred by a South African writer's withdrawal because of concerns over the country's human rights record.
Damon Galgut heeded a boycott call against the Galle Literary Festival that was issued last week by a Paris-based campaign group.
Reporters without Borders - a group campaigning for journalists' rights - made the call.
It has been supported by lobby groups and well-known international writers.
Dissident voices
As the festival opened, organisers announced that Mr Galgut - a prize-winning novelist - was observing the boycott.
Those who had issued the call to stay away said that it was inappropriate to celebrate literature in the country because dissident voices were being victimised by the Colombo government.
The festival curator and Sri Lankan novelist, Shyam Selvadurai, said he agreed there were disturbing human rights issues in the country.
But he said that shutting down a literature festival was no answer.
"I'm very sorry Mr Galgut dropped out because he has written about post-apartheid South Africa," he said.
"And there would have been a lot for our people to have learnt from listening to him. And now by his dropping out, there is a void, a silence."
Those attending seemed to agree with Mr Selvadurai's conclusions.
"This event does a lot of good," one man said. "It probably has the freest speech available in itself. There have been very open debates about controversial issues at past events. It's exactly the wrong thing to shut down."
Two other prominent authors withdrew earlier but the organisers say this was nothing to do with the protest campaign.
Over 60 authors remain at the festival - including China's Jung Chang and India's Tishani Doshi.
But the boycotters say hundreds of online petitioners support their campaign.
Human rights campaigners opposed to the boycott have found an unusual common cause with government supporters here, because it too has spoken out against it.
The festival's opening event was a recording of the BBC World Service panel discussion programme, The Forum, where Sri Lanka's post-war problems were discussed with a large audience adding to the debate.
The two editions of The Forum from the Galle Literary Festival will be broadcast on BBC World Service on 13 and 20 February.