Karachi court frees suspects in Shershah market attack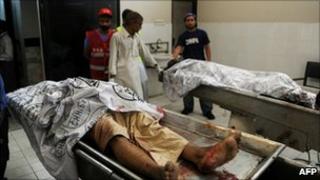 A court in the southern Pakistani city of Karachi has ordered the release of nine men arrested in connection with a deadly attack on a market last year.
The judge said there was insufficient evidence to hold the suspects, who were charged with murdering 13 people in the Shershah spare parts market.
Gunmen raided the market late on 18 October 2010.
The attack was believed to have been carried out as part of the growing ethnic violence in the city.
The victims belonged to Karachi's majority Urdu-speaking community, while the alleged attackers were of Baloch origin.
Violence among Karachi's various ethnic groups claimed hundreds of lives last year.
Eyewitnesses said half a dozen gunmen took part in the Shershah market attack, hunting down Urdu speakers for nearly half an hour.
The anti-terrorism court judge told Wednesday's hearing the police and prosecution had failed to provide enough evidence to link the suspects with the shootings.