Nato chief faces tough questions from Afghans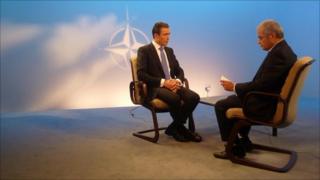 What would you like to ask the secretary general of Nato? That was the question the BBC's Afghan and Persian services put to their audiences ahead of a special BBC interview with Anders Fogh Rasmussen in early January. As the BBC's Jenny Norton explains, the response - from viewers and listeners all across Afghanistan - offers an insight into the hopes and fears of ordinary Afghans as the international intervention in their country enters its 10th year.
"We've been suffering from the war for such a long time and we still have so many problems. I want to ask the head of Nato - when will all this end?"
A cry from the heart from a BBC listener called Didar from Sangin in Helmand region, dubbed by many as the most dangerous place in the world. 
His despair was echoed by many Afghans who contacted the BBC.
"The future seems so bleak," said Fazal Rasual Mahmodi from Nimroz in the south-west of the country. 
"The foreigners promised to rebuild Afghanistan and to help our people," said Zaland, from Kandahar province, the Taliban stronghold in the south of the country.
"But they haven't fulfilled their promises. Why not?"
'Unnecessary killing'
Tough questions for the man with overall political responsibility for the more than 130,000 strong Nato-led International Assistance Force in Afghanistan (Isaf).
Anders Fogh Rasmussen told the BBC he shared the sense of frustration.
"I would also like to see rapid progress in Afghanistan," he said.
"But there's an [Afghan] saying that a river is made drop by drop. And that's what it's all about. We are making progress, step by step... I have to admit it's a complicated challenge, but in co-operation with the Afghan people it can be achieved."
Many people wanted to raise their concern about the numbers of ordinary Afghans being killed in the fighting.
"My request to the secretary general is for him to stop the unnecessary killing of civilians," wrote Besmellah Jan from Helmand province.
"Nato and alliance troops say they are our friends, so why are they bombing civilians, and then just saying 'sorry' afterwards. When is it going to stop?"
Another Helmand contributor, Mohammad Ismail Shariyatyar said that while Nato had the latest technology and high-level military training, "they still can't tell the difference between the Taliban and civilians".
Mr Rasmussen said Nato was doing everything it could to reduce the casualty levels of ordinary Afghans in Nato raids.
"The problem is that the Taliban … very often try to hide in private compounds." he said. "They are cowards that hide among innocent civilians.
"The Taliban are responsible for more than 70% of civilian casualties", he continued. "They don't care about civilian lives."
The sensitive issue of foreign troops conducting raids on private houses was also raised by many Afghan viewers and listeners.
Mr Rasmussen said that he understood and sympathised. Nato was doing all it could to notify village elders in advance of any raids, he said, and to carry out operations with Afghan security forces.
"Afghan soldiers and police know local culture and tradition and can speak to people in their own language. I think this is a very efficient way to prevent civilian casualties and ensure we pay our full respect to local culture," he said.
Another key issue on people's minds was how long Nato troops were planning to stay in Afghanistan.
"The situation is going from bad to worse," said Abdul Qader from Ghazni in central Afghanistan. "Is Nato really going to pull out while things are the way they are, or will they stay and support this country?"
Others questioned whether Afghanistan would have a strong enough administration system when foreign troops leave.
"If help is needed, will Nato troops come back again?" asked Matiaullah from eastern Nangarhar province.
Qari Atiqullah from Kabul asked whether Mr Rasmussen thought that civil war might start all over again when Nato withdraws.
Dispelling these concerns, the secretary general had reassuring things to say about Nato's commitment to Afghanistan.
The plan, he said, was for Nato to hand over combat responsibility to Afghan security forces in 2014 - provided they were ready. And after that point the alliance would continue to remain in the country in a supporting role.
'Clear progress'
He was also positive about the state of the Afghan army and police, describing them as "dedicated and committed" and saying they had made clear progress. You should be proud of them, he told BBC Persian and Afghan audiences.
But the volume of questions the BBC received on this issue merited a comeback:
"The foreigners say they will bring peace by 2014. They haven't been able to do this in nine years, so how will it be possible to do it in four?" Asked Haji Obaidullah from Mazar-e-Sharif, in the north of the country - an area which has seen an upsurge in Taliban activity over the past year.
Mr Rasmussen said that this was also a question asked by many people in troop-contributing countries.
"Retrospectively we made the mistake to underestimate the challenge. Our mission to Afghanistan was under-resourced for many years," he said.
"But by the end of 2009 we decided to increase the number of international troops by 40,000, in addition to train and educate more and more Afghan soldiers and police.
"That's what makes the difference and this is the reason we now see clear progress in the security situation."