Nepal: Man who hit politician hailed 'a hero'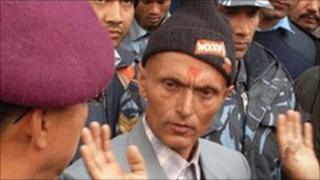 A Nepalese man who slapped a senior politician in anger at the lack of political progress in his country has sparked an internet support campaign.
Devi Prasad Regmi, 55, hit the chairman of one of the main political parties across the face last week during an event for new party members.
He said he was provoked into the act because Nepal's politicians were destroying the country.
The story made front-page news in Nepal's newspapers.
More than 7,000 people have supported a Facebook site set up in praise of him.
Dozens of people have posted comments on the site, many of them thanking Regmi for his action.
One of them, from Facebook user Saif Akhtar, calls Regmi "the real hero of the nation".
Nepal has been without a government since Prime Minister Madhav Kumar Nepal stepped down in June.
Since then there have been 16 failed parliamentary elections for a new leader.
The country's president had asked the three main political parties - the Maoists, the Nepali Congress and the UML - to form a new consensus government by 26 January.
However, the parties were unable to come to a compromise and so elections for a new prime minister will begin again.
'Not proud'
In-fighting both within the parties and between them has meant that crucial government and development projects have been put on hold.
It is this frustration at the lack of political progress in the country that has turned Mr Regmi into a popular hero.
After slapping the politician, he was arrested and detained by police.
Crowds turned out to meet him in his home town after he was released on bail.
He told reporters that no-one should try to imitate his act and that he was not proud of what he did.
But he also described how the cheek of the politician felt like "soft cotton".
"The cheeks of leaders enjoying delicious food and expensive facilities are bound to feel like that," he told the Nepalese newspaper, The Himalayan Times.