Pakistan: Lahore and Karachi bombings toll rises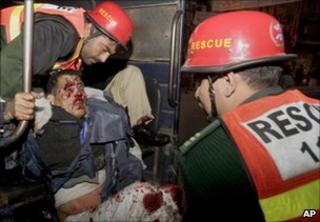 The number killed in Tuesday's two bombings against Pakistan's minority Shia community has risen to 15.
At least 11 were killed in the Lahore attack, hospital sources told BBC.
Police investigators were still scouring the scene of the attack in Urdu Bazar area of the city on Wednesday morning to collect evidence.
The police say they have registered a case against unidentified people on charges of murder, attempt to murder and terrorism.
Meanwhile, three police officials killed in the Lahore suicide attack have been buried with official honours. The governor and chief minister of Punjab attended their funeral prayers.
The attack took place as a Shia Muslim procession was taking place.
The blasts happened despite beefed-up security for gatherings by members of the country's Shia community.
The bomber struck as Shias marked the end of their holy month, Muharram, which commemorates the martyrdom of the Prophet Muhammad's grandson.
In Karachi, police say a bomb rigged to a motorbike in the eastern Malir area was aimed at a bus that was bringing Shia mourners back from a religious procession.
It exploded prematurely when a police patrol became suspicious and approached.
Four policemen were killed and four injured in that attack, officials told the BBC.
Pakistan has seen bombings almost every week in recent years, many of them linked to al-Qaeda and the Taliban, or the allied Lashkar-e-Jhangvi group.
A number of such attacks have occurred in Punjab province, and in particular Lahore.
Sectarian violence has also persisted among hardline elements of Pakistan's Shia and majority Sunni communities, says the BBC's Syed Shoaib Hasan in Karachi.