BJP leaders held over Republic Day flag-raising plan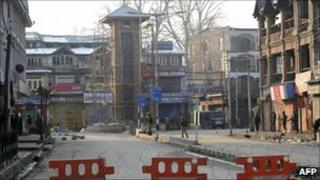 Senior leaders of the main opposition BJP have been arrested to prevent them entering Indian-administered Kashmir for a flag-raising ceremony.
Sushma Swaraj, Arun Jaitley and Ananth Kumar were detained as they crossed from neighbouring Punjab state late on Tuesday. The trio were released later.
Their attempts to hoist the Indian flag in Srinagar for Republic Day now appear to have ended, correspondents said.
The plan had prompted fears of violence in the Muslim-dominated Kashmir Valley.
Police said that six other BJP party workers were also arrested on Wednesday soon after they emerged from a hotel in central Srinagar.
India's Prime Minister Manmohan Singh had appealed to the party to call off the protest.
'Provocation'
He said Republic Day - which he celebrated in Delhi by attending a military parade with Indonesian President Susilo Bambang Yudhoyono - should not be used to promote "divisive agendas".
The chief minister of Indian-administered Kashmir, Omar Abdullah, had warned the flag-hoisting would provoke separatists.
Mr Abdullah invited the detained BJP leaders to come to Srinagar for the Republic Day ceremony, which was held amid tight security.
Separatist groups organised a shutdown throughout the Kashmir Valley and declared Wednesday as a "Black Day".
But the BBC's Altaf Hussain in Srinagar says the atmosphere on the streets remained peaceful.
On Monday, the three leaders were turned back at Jammu airport and sent by road to the neighbouring state of Punjab.
Along with some 500 party workers, they attempted to re-enter Indian-administered Kashmir again on Tuesday when they were arrested after crossing the state border.
They were kept overnight in the town of Kathua and are due to appear in court on Wednesday.
The BJP has dismissed charges that it was playing politics over the ceremony.
"I don't understand what politics can there be in hoisting the flag... This is not politics but our duty," BJP President Nitin Gadkari said in Delhi.
The BJP's Arun Jaitley said there had been "a panic reaction by the government… It was a psychological surrender before separatists", he told reporters.
On Sunday night, a train carrying 2,000 BJP workers on their way to Kashmir for the flag-raising ceremony was turned around mid-way.
Overnight, railway staff at a station in Maharashtra state attached the engine to the rear of another train and sent it back to Karnataka.