Big bomb explosion derails India Assam freight train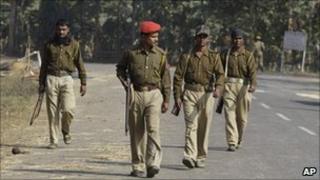 A powerful bomb has damaged a bridge and derailed a freight train in the Indian state of Assam, officials say.
A railway official said the blast went off in Assam's North Cachar hill district. No-one was killed or injured.
But rail traffic between Assam's Brahmaputra valley and the north-eastern states of Tripura and Mizoram was badly disrupted.
It is not clear who planted the bomb. Separatists opposed to Indian rule could be to blame, police say.
Security forces are on the alert across the north-east after six separatist groups called for people in the region to boycott all ceremonies connected with India's Republic Day on Wednesday.
"We oppose India's colonial occupation of our lands and we will fight it with all we have," said Keishing Lenba of Manipur's United National Liberation Front (UNLF), the strongest rebel group still fighting against India.
Officials say that until the derailed freight train is removed and the damaged bridge is restored, no train will run between the upper and lower reaches of north-east India.
In another incident, three people were seriously injured when militants of the Karbi tribe fired on a Manipur-bound passenger bus travelling from Assam's capital, Guwahati.
Police said the firing took place at the Upper Deopani reserve forest in the state's Karbi Anglong district.