Aarushi Talwar's father attacked outside court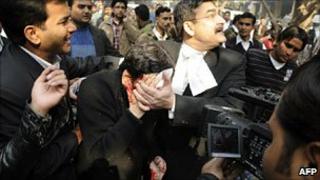 The father of schoolgirl Aarushi Talwar, whose murder in 2008 shocked India, has been attacked outside a court near the capital, Delhi.
Witnesses said Dr Rajesh Talwar was set upon by a man brandishing a sharp-edged weapon in Ghaziabad.
The attacker was arrested. Dr Talwar has been treated for his injuries.
The court has been hearing a case by investigators to close the inquiry into the murder of Dr Talwar's 14-year-old daughter, blaming a lack of evidence.
Dr Talwar, a well-known dentist, was in court on Tuesday to challenge the Central Bureau of Investigation's closure of the murder case, and to demand a fresh investigation.
TV pictures showed Dr Talwar bleeding as a man was restrained.
'No motive'
Senior local police officer, Raghubir Lal, said the attacker was being questioned.
"He is telling us that he had no motive. He says he [attacked Dr Talwar] for [becoming] popular, for [being featured] in the media," he said.
Police are investigating reports that the assailant is the same man who attacked a former police officer outside a court in the nearby city of Panchkula, Haryana state, last February.
The former police officer was later convicted of molesting a 14-year-old girl who had committed suicide.
Aarushi Talwar was murdered in her bedroom, while her parents were at home in Noida, a Delhi suburb. She was found with her throat slit and a fatal head injury.
A day later the bludgeoned body of their servant, Hemraj, was found on the roof.
As well as Aarushi's father, three other men were arrested, but later freed because of a lack of evidence.
They were Dr Talwar's dental assistant and two servants employed by the Talwar family's friends and neighbours.
The murder weapon has never been found, and while Aarushi's mobile phone was recovered nearly 15 months after her death, its memory had been deleted.
Federal investigators took over the case from Noida police, who were accused of a botch job.
Tuesday's attack was not the first such incident outside the court in Ghaziabad.
In January 2007, a mob attacked an Indian businessman, Moninder Singh Pandher, and his servant, who were accused in the rape and murder of at least 19 women and children.