India condemns Sri Lanka over fishermen deaths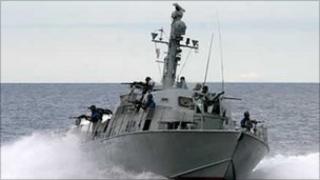 The killing of an Indian fisherman, allegedly by the Sri Lankan navy, is threatening to create a diplomatic row between the two countries.
Indian Foreign Minister SM Krishna has strongly condemned the incident, and has asked Sri Lanka to investigate.
Sri Lanka has denied Indian media reports which say that a fisherman from the state of Tamil Nadu was killed.
Another Tamil fisherman was shot dead earlier this month, also allegedly by the Sri Lankans.
Press reports say that the latest incident took place when the the Sri Lankan navy challenged the fishermen in the Indian Ocean.
Two others were reportedly injured during the confrontation.
In a strong statement, the Indian government asked Sri Lanka to investigate the incidents and condemned the use of force against their fishermen.
But a spokesman for the Sri Lankan navy, Captain Athula Senarth, described the allegations as baseless and without proof.
The Sri Lankan navy has maintained a strong presence in the area to try to crack down on Tamil Tiger rebels during the country's civil war.
But with the war now having ended and the rebels defeated, many in India believe they should scale down their presence.