India's BJP party demands recall of Karnataka governor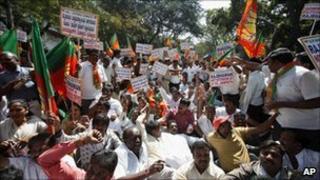 Senior leaders of the Bharatiya Janata Party (BJP), India's main opposition, have met the president to demand the recall of Karnataka state's governor.
Party leaders are unhappy with Governor HR Bharadwaj for sanctioning prosecution of state chief minister BS Yeddyurappa in a land scam case.
The chief minister is accused of giving land to relatives at knockdown prices.
Mr Yeddyurappa, who heads the BJP's only government in southern India, denies any wrongdoing.
Recall request
Senior BJP leader LK Advani led a delegation to meet President Pratibha Patil in the Indian capital, Delhi, on Monday morning.
Mr Advani was accompanied by senior party leaders Sushma Swaraj and Arun Jaitley and several BJP MPs from Karnataka.
"We requested her [President Patil] to discontinue her pleasure and recall the governor," Mr Advani told reporters after Monday's meeting.
"Removing him will help the people of Karnataka, constitution and democracy," he added.
Governor Bharadwaj granted sanction to prosecute Mr Yeddyurappa on Friday and two complaints were filed against him in a Bangalore court on Saturday.
Further charges are expected to be filed.
Angry BJP workers called a state-wide strike in Karnataka on Saturday and held protest rallies in Bangalore.
Mr Yeddyurappa denies claims by political opponents he committed nepotism by selling government land to his two sons and relatives at throwaway prices.
In the chief minister's defence, BJP president Nitin Gadkari has said he acted "immorally but not illegally".