BJP protesters' train on way to Kashmir sent back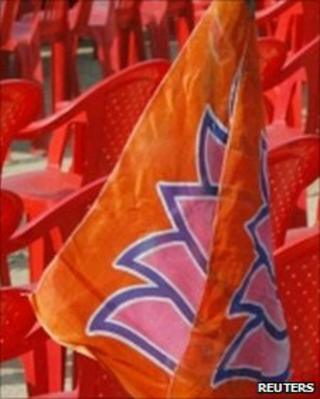 Hundreds of workers of India's main opposition BJP on their way to Indian-administered Kashmir for a flag-raising ceremony have been sent back midway.
They boarded a train in Karnataka state to hoist the national flag in Srinagar city on Republic Day on Wednesday.
But some distance into their journey, railway staff at a Maharashtra station attached the engine to the rear of the train and sent it back to Karnataka.
It is unclear which government department ordered the ruse.
Reports said the train carrying nearly 2,000 workers of the youth wing of the Hindu nationalist BJP from southern Karnataka state halted at Sakola in western Maharashtra state en route to Kashmir early on Sunday.
Most of the party workers were fast asleep when railway staff at the station detached the train's engine from the first coach and attached it to the last coach, reports said.
The train had travelled 400km (248 miles) into its journey north.
The BJP workers realised that they were heading back home at the next station.
Fear of violence
Reports said they stopped the train and blocked the railway tracks for more than five hours at the Akkalkot before continuing on their journey back to Karnataka.
Plans by the BJP to hoist the national flag in Srinagar to commemorate India's Republic Day on Wednesday have triggered off fears of violence in the restive Muslim-dominated valley, where Srinagar - the summer capital of Indian-administered Kashmir - is located.
Indian PM Manmohan Singh has appealed to the BJP to call off the rally, saying that the Republic Day should not be used to promote "divisive agendas".
And the chief minister of Indian-administered Kashmir Omar Abdullah said he would stop the flag hoisting ceremony.
He said it would provoke the separatists.
Tens of thousands of people have been killed in Kashmir since an armed revolt erupted in 1989.
More than 100 Kashmiris were killed last year in protests against Indian rule.