Deal over Afghan parliament stand-off 'in doubt'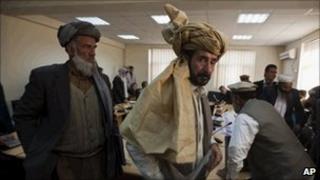 A deal to open Afghanistan's lower house of parliament on Wednesday appears to be in doubt.
President Hamid Karzai had agreed to the move after MPs reportedly said they would respect the findings of an electoral fraud tribunal.
But now MPs appear to be pressing for the abolition of the Karzai-backed tribunal, calling it unconstitutional.
Talks are continuing, but the issue is threatening to cause a constitutional crisis.
'Challenging Karzai'
The 249-member lower house of parliament - the Wolesi Jirga - was originally scheduled to open on Sunday.
But Mr Karzai last week ordered a one-month delay to give the tribunal more time to investigate fraud allegations made after last September's poll.
The president later reversed the decision, after the deal was reportedly reached that lawmakers would respect the tribunal's decisions.
But on Sunday, some MPs were allegedly pressing for the tribunal to be abolished and criminal cases be handled by regular courts.
Dozens of MPs are reportedly among the cases the tribunal is investigating, and they fear that they could lose their jobs.
Critics say Mr Karzai is not happy with the results of the parliamentary poll, which has produced a lower house with a larger, more vocal and coherent opposition than the previous chamber.
The new parliament contains bigger groups of ethnic Tajiks and Hazaras, who may challenge the president's traditional power base among Pashtuns, Afghanistan's largest ethnic group.
Although it is largely seen as weak in comparison with the president and his government, the legislature has successfully blocked many cabinet appointments and is a major dissenting voice in the country.
'Deep concern'
Electoral officials who organised the poll say the probe is unconstitutional.
Afghan electoral law states that the Electoral Complaints Commission (ECC) is the ultimate arbiter of disputes over fraud, and that the results declared by the Independent Election Commission (IEC) are final.
The IEC announced the final results on 1 December after the ECC had concluded its investigations, but the attorney-general continued to look into complaints and set up the special tribunal.
The head of the five-judge panel has said there is evidence of fraud countrywide, and a need to investigate more than 300 cases.
Last week, the UN, EU, US and Canada expressed their "deep concern" at the delay.
"Afghanistan's peaceful future lies in the building up of robust democratic institutions based on the rule of law and clear respect for the separation of powers," a joint statement said.