Red Cross and MSF accused of helping India Maoists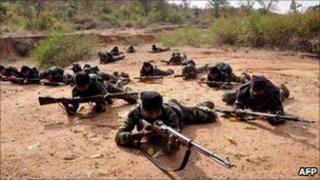 Authorities in the central Indian state of Chhattisgarh say two international aid agencies are helping Maoist insurgents in the area.
A senior police official said Medecins Sans Frontieres (MSF) and the International Committee of the Red Cross (ICRC) were "facilitating" treatment of rebels.
The groups have denied the allegations.
Large parts of Chhattisgarh are rebel strongholds, as its dense forests offer protection from government troops.
The rebels are believed to be active in more than two-thirds of the country. They say they are fighting for the rights of the rural poor.
Chhattisgarh police official SRP Kolluri said two rebels arrested with medicines worth $6,000 (£3,770) from a local pharmacy had said they were being treated by "people from MSF and ICRC".
MSF has been working in Chhattisgarh since 2006.
MSF's India head Martin Sloot said the organisation offers medical support to people who have limited access to healthcare, with support from the Chhattisgarh government.
"But we do not support the Maoists," he said.
"MSF does not take sides. MSF is a neutral, independent medical organisation, we are not supporting any of the actors involved in the conflict.
"Our only concern is with providing medical care to people with no or limited access to health care, regardless of race, religion, or political affiliation."
ICRC's communications officer, Surinder Oberoi, said the allegation was "baseless".
In 2006, authorities of Dantewada district - a rebel stronghold - made similar allegations against MSF but the organisation was allowed to work in the area.
Prime Minister Manmohan Singh has described the Maoist insurgency as India's biggest internal security challenge.
A government offensive against the rebels - widely referred to as Operation Green Hunt - began last October.
It involves 50,000 troops and is taking place across five states - West Bengal, Jharkhand, Bihar, Orissa and Chhattisgarh.