Nato soldier 'killed by Afghan army member'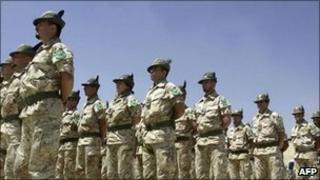 A Nato soldier shot dead this week in Afghanistan was killed by a member of the Afghan army, Nato has confirmed.
The incident, in which another Nato soldier was wounded, took place on Tuesday in Badghis province.
Nato said the Afghan soldier had approached to ask for equipment to clean his weapon and opened fire when he was told to unload it. The Afghan soldier escaped.
The incident is the latest of a number of attacks by renegade Afghan troops.
Nato did not release the nationalities in its latest release but an incident involving two Italian soldiers in the area had been reported.
The Italian defence minister had earlier said the case was an attack by insurgents.
Nato said the troops were cleaning their own weapons in Bala Murghab district when they were approached by the Afghan soldier.
"The two [International Security Assistance Force] service members noticed the Afghan soldier's weapon was loaded and asked him to unload it," Nato said.
"The Afghan soldier reacted by shooting the Isaf service members and escaped from the combat outpost."
Isaf is training and mentoring Afghanistan's security forces, but there have also been several incidents of Afghan soldiers firing on foreign troops.
In November 2009, an Afghan policeman killed five British troops before escaping.
Last November, a man wearing an Afghan military uniform killed six Nato troops during a training exercise in eastern Nangarhar province before being shot dead.
Nato is also investigating an incident last Saturday in which a US marine allegedly shot dead an Afghan police officer in southern Afghanistan.