India police deny responsibility in Sabarimala stampede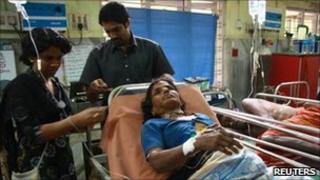 Police in the southern Indian state of Kerala say they are not to blame for last Friday's stampede at a hill shrine which killed 102 pilgrims.
In a report to the high court, police said adequate forces were deployed to manage the crowd on the hill leading to the Hindu shrine of Sabarimala.
At least 44 people were injured in the crush, triggered by a road accident.
The tragedy occurred when the pilgrims were returning after witnessing the celestial light above the shrine.
The shrine is in a remote, mountainous, deeply forested area.
Worst disaster
In a report to the state high court on Thursday, police said 279 policemen and two senior officers were deployed for crowd control on the pilgrimage route.
The police clarification came after a media report alleged that there were only a handful of policemen on duty at Uppupara, the spot where the stampede took place.
The worst disaster in the history of the hill shrine, the stampede was triggered by pilgrims falling off a van and an auto-rickshaw that collided in the dark around 2000.
"There was a commotion following the collision and many pilgrims, who were in the roadside shops, rushed out to see what was happening and they got caught in the melee," senior police officer A Hemachandran told the BBC.
The court has now asked the government for a comprehensive report on the incident.
The court has also asked the authorities to explain whether the celestial light over the Lord Ayyappa temple - which the pilgrims gather to see on 14 January every year - is "divine or man-made".
Kerala Chief Minister VS Achuthanandan, an atheist, said the government did not plan to inquire into the origin of the celestial flare.
Co-operation Minister G Sudhakaran, who was in charge of the temple administration until recently, said the celestial light was actually fire lit by tribal people who live on nearby hills.
But some say the fire is lit by the temple administration to draw crowds to the hills to witness the celestial "wonder".
Some 20 million pilgrims visit the shrine every year and according to estimates, they contribute 100bn rupees (£1.45bn; $2.2bn) to the state's economy.