'Interest cap' for Indian small loans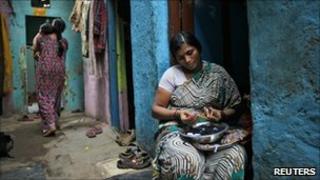 India's central bank has recommended an interest cap and tighter lending guidelines for the country's crisis-ridden microfinance companies.
It also relaxed rules for banks to lend to the microfinance firms.
The multi-billion dollar industry was on the brink of a mass default late last year after a repayment crisis.
Microfinance is designed to offer small, cheap loans to poorer borrowers, often in rural areas, who have difficulty accessing funds from banks.
The crisis in India's booming microfinance industry began late last year when authorities started blaming microfinance firms for a string of suicides in rural villages in southern Andhra Pradesh state.
They claim the suicides have been caused by company malpractice, heavy handed debt recovery methods and high interest rates. Lenders deny the accusations.
Borrowers have defaulted on payments, and banks have ceased lending to the cash-strapped microfinance companies.
A committee set up by the Reserve Bank of India has recommended that the microfinance companies should be allowed to charge a maximum interest of 24% on small loans that cannot exceed $550.
The loan amount, it said, should not exceed half of the family's yearly earnings. It also recommended that a borrower should not be able to take loans from more than two microfinance companies.
The central bank report said at least 75% of the loans should be used for generating income for the borrowers.
A spokesman for the industry has welcomed the recommendations.
"it gives clarity to the industry requirements. The recommendations have been long demand of the industry," Alok Prasad told the Press Trust of India news agency.
India's microfinance companies have given away nearly $7bn in loans to 30 million households.
Andhra Pradesh accounts for a third of these households and nearly half of the loans.
Analysts say reckless lending and borrowing by micro-credit companies and borrowers respectively led to the crisis.
This has now led to borrowers defaulting on payments and taking their lives and banks ceasing to lend to the cash-strapped micro-loan companies.