India court alarm over 'theft of national money'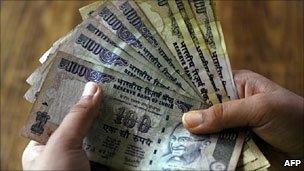 India's Supreme Court has said that the practice of illegal funnelling of wealth overseas by Indians is a "pure and simple theft of national money".
The court also asked what the government was doing to retrieve the illegal money in foreign banks.
US-based group Global Financial Integrity has said that India has lost more than $460bn in such illegal flight of capital since Independence.
It said the illicit outflows increased after economic reforms began in 1991.
The report also said that almost three-quarters of the illegal money that comprises India's underground economy ends up outside the country.
India's underground economy has been estimated to account for 50% of the country's GDP - $640bn at the end of 2008.
Wednesday's remarks by the Supreme Court came when it was hearing a petition filed by a former federal Law Minister Ram Jethmalani and others on the alleged inaction of the government in bringing back illegal money parked overseas by rich Indians and companies.
In response, India's Solicitor-General Gopal Subramaniam submitted a sealed cover containing 16 names of individuals and companies who had accounts with a Liechtenstein-based bank.
"This is all the information you have or you have something more! We are talking about the huge money. It is a plunder of the nation," remarked Justice B Sudershan Reddy.
"It is a pure and simple theft of national money. We are talking about [a] mind-boggling crime.
Mr Subramaniam said the government was taking measures to bring back the illegal money, but said there were difficulties in sharing the information because of confidentiality treaties between countries.
"All we want is that you give all the information about the money deposited in the foreign banks by Indians. You cannot confine the petition to one bank," Justice SS Nijjar said.
The court has fixed 27 January as the next date of hearing.
Global Financial Integrity said the illegal flight of capital through tax evasion, crime and corruption had widened inequality in India.
High net-worth individuals and private companies were found to be primary drivers of illegal capital flows.
Related Internet Links
The BBC is not responsible for the content of external sites.