Bangladesh-India border deaths discussed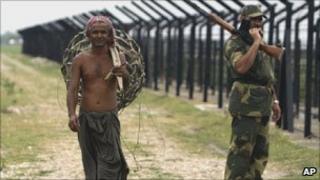 Senior officials from Bangladesh and India are due to begin talks to discuss security related issues.
The home secretaries are meeting in the Bangladeshi capital, Dhaka to find ways to reduce tensions along their border.
The neighbours share an usually tense 4,000-km (2,485- mile) border.
Bangladeshi officials accuse Indian border guards of routinely shooting down civilians and cattle traders who attempt to cross the border.
The two-day talks come at a time when there is increasing public anger in Bangladesh over the continuing killings on the border with India.
In the latest incident, media reports said a 15-year-old Bangladeshi girl was allegedly shot dead by the Indian border guards earlier this month.
The reports said she was shot when she tried to re-enter her country by climbing a barbed-wire fence put by India along parts of the border.
Outcry
The incident has triggered an outcry in Bangladesh.
Human rights groups allege that more than 900 civilians, many of them illegal immigrants or cattle smugglers, have been shot dead by the Indian border guards over the last decade.
"Ever year, a good number of people are killed around the border area. We would like to bring the casualty rate to zero," Bangladeshi Home Secretary Abdus Sobhan Sikder told the BBC.
Indian officials maintain that they only target drug smugglers, human traffickers and illegal immigrants.
They say they have been taking various measures to reduce the number of casualties.
For example, they said, around 130 people were killed in the border area in 2006 while the number dropped to 52 last year.
Bangladesh has also long been asking the Indian border guards to use non-lethal weapons or rubber bullets to avoid civilian deaths.
Bangladeshi officials say maintaining peace in the border region will top the agenda in the bilateral talks.
Indian officials, on the other hand, are expected to demand the handing over of militant leaders from the north-eastern Indian states, who are said to be based in Bangladesh.