India rules hill city 'illegal'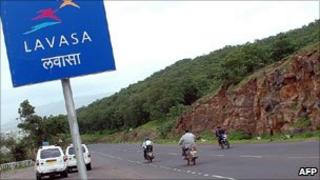 India's environment ministry has declared a privately built hill station city in Maharashtra state illegal.
The ministry said it was willing to consider the Lavasa hill city if the developer paid up penalties and met environmental considerations.
Construction work was stopped in November after complaints that the project flouted environment laws.
The developers have challenged the ruling, saying it seems to "magnify minor environmental issues".
Lavasa Corporation Limited said in a statement that such minor issues were being used to "justify" the stoppage of work at the city.
'Largest project'
A team from the environment ministry visited the city earlier this month and reported that it had caused considerable environmental damage.
In an order on Tuesday, the ministry said it was "prepared to consider the project on merits with the imposition of various terms and conditions".
Such conditions include "substantial penalty" for violation of environmental laws, which is "incontrovertible".
The ministry said it would like to impose "stringent terms and conditions" to ensure that no further environmental degradation was caused by the construction work.
Lavasa Corporation said in a statement that a "quick review" of the ruling indicated that the ministry had ignored a "huge body of data submitted" by the company on environment protection at the site.
The company's website describes the project as "India's first planned hill city" and the country's "largest urban infrastructure project".
It said that the city was spread over 25,000 acres, including seven hills, and boasted 60km (37 miles) of a lake-front area.
Tuesday's ruling came days after the ministry ordered the demolition of a block of flats in Mumbai that has been at the centre of a corruption scandal.
It said the Adarsh Society building must be demolished within three months for breaching coastal protection laws.