Pakistan bomb: one killed in blast near Peshawar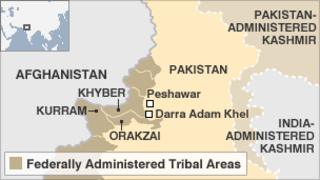 A bomb blast near a school in the north-western Pakistani city of Peshawar has killed one person and injured at least 11 others, police say.
Police official Mohammad Ijaz told the AFP news agency that the bomb was planted in a horse cart parked near the school. A pedestrian was killed.
It is not clear who planted the explosive in the city's Saddar area.
Peshawar is close to Pakistan's insurgency heartland tribal regions and the Afghan border.
The city has been the scene of frequent attacks by the Taliban, including on government installations and security force targets.
Last month, a bomb blast hit a school bus in Peshawar, killing the driver and a 13-year-old boy.