Dozens of Afghanistan Taliban 'switch sides' in Kunduz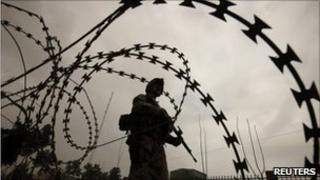 At least 40 Taliban have surrendered and joined pro-government forces in the north of Afghanistan after a military operation, say police.
Kunduz province police chief Abdul Rahman Sayedkhaili said the insurgents had given up in the district of Imam Saheb, near the border with Tajikistan.
But Taliban spokesman Zabiullah Mujahid denied any militants had switched.
Violence across Afghanistan is at its worst since the 2001 overthrow of the Taliban government.
'Betrayed by al-Qaeda'
The province's police chief told the Associated Press news agency that 10 or 15 militants at a time have been switching sides in recent months, but that dozens had surrendered at once on Tuesday.
The BBC's Dawood Azami in Kabul says it appears Kunduz village elders convinced the Taliban to give up after security forces warned they would ramp up activity in the area to take on the insurgents.
Mullah Mohammad Gul, the leader of the group that surrendered, told the Reuters news agency that his men had been "betrayed by al-Qaeda and other foreign fighters".
"They fled Afghanistan and left us without any help," he said at a compound where they handed in their weapons.
The north of Afghanistan, including Kunduz, is where some 3,500 German Nato troops are based.
It is not known if any of them were involved in Tuesday's operation.
There has been increased activity around Kunduz by Afghan and coalition troops to tackle a spreading insurgency.
US combat forces plan to start pulling out of Afghanistan midway through this year.