Indian leaders warn of 'governance deficit'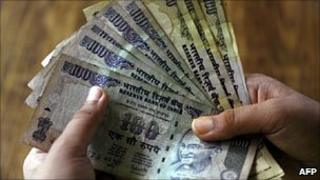 A group of eminent Indians has said in an open letter that corruption is on the rise and "corroding the fabric" of the nation.
The group, including industrialists, bankers and judges, warned of "widespread governance deficit almost in every sphere of national activity".
The 14 signatories said independent anti-corruption bodies should be set up speedily.
High-profile sleaze scandals have shaken India in recent months.
'War footing'
The BBC's Mark Dummett in Delhi says India's hi-tech economy might be booming, but there are many here who worry that corruption has permeated all levels of government, and is risking the country's success.
In an "open letter to our leaders" published in the Hindustan Times, the group wrote: "Possibly, the biggest issue corroding the fabric of our nation is corruption.
"This malaise needs to be tackled with a sense of urgency, determination and on a war footing."
The group includes businessman Azim Premji, of the technology giant Wipro, and former central bank governor Bimal Jalan.
They also wrote that they were "alarmed at the widespread governance deficit most in every sphere of national activity covering government, business and institutions".
"Widespread discretionary decision making have been routinely subjected to extraneous influences.
"The topmost responsibility of those at the helm of the nation's affairs must be to urgently restore the self-confidence and self-belief of Indians in themselves and in the State as well as in Indian business and public institutions which touch the lives of every Indian."
The Congress party-led government is battling allegations of corruption over a huge telecom scandal.
So-called 2G spectrum phone licences were sold in 2008 for a fraction of their value, costing the government ab estimated $37bn (£23bn) in lost revenue.
Another major inquiry is ongoing into claims that organisers of the Delhi Commonwealth Games swindled millions of dollars from last October's event.
Congress party president Sonia Gandhi said recently that corruption was a disease in India.
A recent report by US-based group Global Financial Integrity said the illegal flight of capital through tax evasion, crime and corruption had widened inequality in India.
The other signatories to the letter are industrialists Keshub Mahindra, Jamshyd Godrej and Anu Aga, judges Sam Variava and BN Srikrishna, former Reserve Bank of India (RBI) governor M Narasimham, RBI central board directors Yezdi Malegam and A Vaidyanathan, bankers Deepak Parekh and N Vaghul, financial services expert Nachiket Mor and MP Ashok S Ganguly.