Bangladesh restricts acid sales to prevent new attacks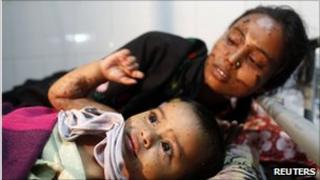 The Bangladeshi government says it is restricting the sale and distribution of certain kinds of acid in order to reduce the number of acid attacks.
Commerce Minister Faruk Khan told the BBC only those registered with a trade body should be able to buy and sell acid from a market.
Dozens of women and children are injured in acid attacks every year in Bangladesh.
The attacks leave victims terribly disfigured, scarred and disabled.
The violence is mostly aimed at young women who reject marriage proposals or sexual advances, or when their families are unable pay their dowries.
Sometimes, even children are targeted during family disputes.
'Intimidating people'
Campaigners say acid is widely available and many people can get access to it.
Mr Khan said that acid traders should behave more responsibly.
"We already have laws regarding the use of acid as a material," he said.
"Anybody who wants to do business or trade [with acid] must have a government licence.
"But of late we have seen that this has not been adhered to and we have seen the misuse of acid - particularly in intimidating people."
The commerce minister said that he had held talks with representatives of the Acid Merchants Association of Bangladesh and had requested them to improve procedures so that acid "does not fall in the hands of the wrong people".
He said that from now on, whenever acid was sold - either to individuals or companies - their names must be written down so that there was some record of the purchase.
In 2002, Bangladesh brought in special laws, including a provision for the death sentence, to stop acid attacks.
The number of attacks has since fallen.
But the Acid Survivors Foundation says that violence still continues and the number of incidents went up again last year.
It says 153 people, mostly women and children, were acid attack victims in 2010.
Campaign groups say that is because the law is poorly implemented and few people are punished.