Afghanistan's make-or-break year ahead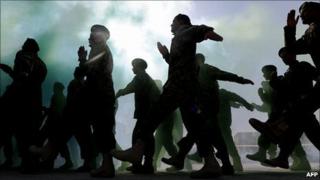 When Washington's red-walled Opera House drew in friends and fellow travellers from the world over to pay tribute last week to veteran American diplomat Richard Holbrooke, President Barack Obama set them a challenge.
"He made a difference. Let us now carry that work forward in our time," Mr Obama declared as he ended his eulogy for the Special Representative for Afghanistan and Pakistan, following his sudden death of a heart attack last month.
But who would fill this larger-than-life figure's big dusty boots?
Names mentioned by several people close to this process are obvious choices on Washington's rollcall of the best and brightest.
But many tried-and-tested troubleshooters are said to be demurring, citing other commitments, advancing age, or the daunting scale of the task.
How will the approaches championed by Mr Holbrooke move forward, including a strong civilian role alongside the growing military juggernaut and its powerful four-star, all-star General David Petraeus?
"The essence of the challenge is getting the balance right between the military and the political, civilian and diplomatic aspects," reflected former deputy Secretary of State Strobe Talbott, a close friend of Mr Holbrooke, who now heads the Brookings Institution.
"There has always been some tension."
'My wingman'
Gen Petraeus's heartfelt eulogy in the Washington Post newspaper raised some eyebrows in the nation's capital.
The top US commander in Afghanistan spoke of Mr Holbrooke as "my diplomatic wingman".
"Shouldn't it be the other way around?" remarked a former US diplomat.
On the ground in Afghanistan, it is clear that Gen Petraeus, who works closely with civilian partners, is shaping and driving this process on all its fronts.
But discussions in Washington last week with senior US military officials, diplomats and advisers underscored differences in the American team.
Among officials and diplomats, there is a growing, but still behind-the-scenes, focus on how to bring about a negotiated end to a costly war now entering its 10th year.
Wary neighbours
This includes detailed discussion of possible mechanisms for any peace talks with the Taliban and other armed groups which would involve an American presence.
A key concern is how to reconcile any eventual discussions among Afghans with those involving wary neighbours, especially Pakistan, where many senior Taliban leaders are known to be based.
The US has been saying for months it backs Afghan government efforts on reconciliation, and stresses they must be "Afghan-led".
But it has been resisting calls to take a more active public role to move the process forward.
One senior official described the US approach as having moved up "a notch".
"What's different now," he said, "is we are investigating the channels that open."
Off-the-record conversations with senior US officials indicate messages have been received, through various intermediaries, in recent months.
One source spoke of nearly a dozen individuals who have indicated an interest in opening contact.
Fooled by 'shopkeeper'
But there is still great caution.
"We still don't know who these people really are, whether they speak for the Taliban leadership council, or if any of them are linked to each other," said one official.
In November it emerged that Western intelligence and Afghan officials had met a Taliban impostor who claimed to be a leader of the group. The man was actually a shopkeeper from Quetta in Pakistan, it was later alleged.
This embarrassment has given further pause.
There is even greater scepticism among the military.
One senior source at the Pentagon emphasised their widely held view that they are making tactical gains in Kandahar and Helmand and putting pressure on mid-level field commanders.
"But," he stressed, "the Taliban leaders still think they're winning. They're not interested in talking."
The Chairman of the Joint Chiefs of Staff, Admiral Mike Mullen, told journalists in Washington last week that gains were "tenuous and fragile and can be lost".
He warned that "things are likely to get harder before they get any easier".
When asked about the military's approach to reconciliation, the infamously blunt Mr Holbrooke would sometimes quip: "Well that's a 15-second conversation."
I asked one former Western diplomat involved in this process what was the best to be expected this year?
"Exploratory conversations," he offered cautiously.
Spring's big story
The Taliban, in their public statements, have always insisted no contacts are taking place, and none will until foreign troops leave.
Co-operation with Pakistan will also be decisive.
Many believe there cannot be progress in Afghanistan until Pakistan's military takes action against the Afghan Taliban havens on its territory.
"The challenges are there," commented regional expert Vali Nasr, who was Mr Holbrooke's senior advisor, and has just returned from a visit to Pakistan.
"But there is forward movement."
He emphasised that working with both countries will continue to be the "cornerstone" of their approach.
As President Obama's July 2011 date looms for the start of a troop withdrawal, minds are focused on the transition to Afghan responsibility by 2014.
"Spring is the big story," said one senior US official.
When the snows melt, they will also reveal whether a more aggressive military campaign has dealt a decisive blow to an insurgency which usually hots up with the weather.
A few weeks before Ambassador Holbrooke passed away, one official who has worked in the region for decades told me: "Gen Petraeus's plan is to gain the momentum on the battlefield and then hand Mr Holbrooke the task of leading warring sides to the battles around the negotiating table."
It is widely known that the White House did not regard the domineering Mr Holbrooke as the right man for this sensitive task, even though it was a role he clearly coveted.
His passing left a gap but also created an opportunity. The big question is whether it is a job anyone can do.