Bus bombing kills 11 in Pakistan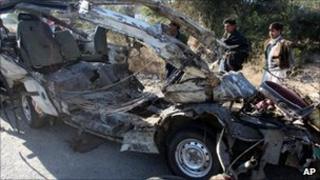 An explosion that killed at least 11 people on a bus in the militant haven of north-western Pakistan was caused by a bomb, police say.
At least 10 others were wounded by the blast on the minibus in Hangu district, Khyber Pakhtunkhwa province.
A bomb-disposal squad said the explosion had been caused by a remote-controlled device.
Police had earlier not ruled out the blast being an accident caused by fuel containers on the vehicle.
Two exploded gas cylinders were spotted in the wreckage of the bus, which had been carrying 18 passengers from Hangu to nearby Kohat.
Police also revised down the death toll from 15 to 11.
"The report of the bomb disposal squad shows that explosive materials fitted with a timer were placed near the gas cylinders which caused the explosion," district police chief Abdul Rashid told AFP news agency from the scene.
It is not clear why militants would want to attack a bus that was thought to be carrying civilians.
Sectarian strife
Hangu is a district where there have been several suicide attacks recently, killing security personnel and a large number of civilians. It is widely seen as a gateway to two troubled tribal districts.
The Orakzai region is a Taliban stronghold while the Kurram region is dominated by Pakistan's minority Shia population.
Hangu itself has a large Shia Muslim population and has been the scene of numerous sectarian clashes between Shia and Sunni Muslims over several years.
The Taliban are engaged in a campaign of violence against security forces in Pakistan, carrying out attacks in revenge for US drone strikes on the tribal areas. Many civilians have been killed in the conflict.
Hangu also serves as the base camp for Pakistani troops conducting operations in Orakzai region.
Our correspondent says that there were only two Shias travelling in the bombed bus.
Some local observers say that six of the passengers were going to the High Court in nearby Peshawar to testify in a bombing case in which a Shia gathering was targeted last year.