India rebel group in Assam 'offers talks'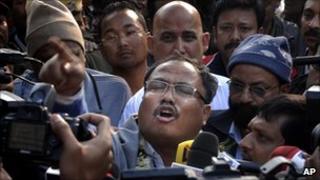 The leader of a separatist group in India's north-eastern Assam state has offered to start negotiations with the government, officials said.
Arabinda Rajkhowa, chief of the United Liberation Front of Assam (Ulfa), has written to the state chief minister Tarun Gogoi seeking a dialogue.
Mr Rajkhowa, who was being held on charges of sedition, was released from prison earlier this month
Ulfa rebels have fought for a separate Assamese homeland since 1979.
Mr Gogoi told reporters that he had received a letter from Mr Rajkhowa "saying the Ulfa wants to hold talks with the government".
"But they are yet to take a formal decision and we are waiting for them to do so," he said.
Mr Gogoi said that the rebel chief had told him that the group's high command will meet soon and take a formal decision on the issue.
Mr Rajkhowa, 54, has said in the past that Ulfa was ready for peace talks with the Indian government.
However, other members of the Ulfa leadership are known to oppose talks.
In 2009, the government in Bangladesh launched a crackdown on Indian separatists operating out of Bangladeshi territory.
More than 50 rebel leaders and activists have been handed over to India since then, while others have been arrested while trying to enter the country to avoid capture in Bangladesh.