India to tear down flats at centre of graft scandal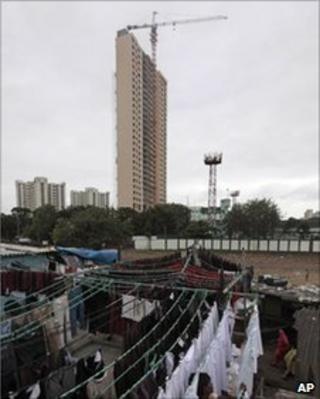 India's environment ministry has ordered the demolition of a block of flats in Mumbai that has been at the centre of a corruption scandal.
It said the Adarsh Society building must be demolished within three months for breaching coastal protection laws.
The 31-storey block was originally planned as a six-storey housing project for war widows.
But flats were sold to politicians and military officers, allegedly at prices far below the market rate.
The block, in an exclusive part of central Mumbai, exceeds the maximum height for buildings near the coast.
"Out of three options the Ministry has decided to remove the entire structure," said a statement from the environment ministry.
"Any other decision would have diluted the strong precedents that have been set in judgements of the Supreme Court."
Power cut off
Environment Minister Jairam Ramesh told a newspaper that he hoped the decision to demolish the building will set a "precedent" for cases involving violation of coastal protection laws.
"Such violations have been exploited over and over again for several years and Adarsh will set a case for taking these norms seriously," Mr Ramesh said.
The state's chief minister, Ashok Chavan, had to resign after it emerged that relatives of his had flats in the building. He denied any wrongdoing.
Municipal authorities disconnected the building's water and electricity supply last year after it was found to have violated environmental laws.
Lawyers representing the block's owners say they will challenge the demolition order.
The Adarsh Society case is one of several corruption scandals that have shaken India's government.