Lives in turmoil after Sri Lankan floods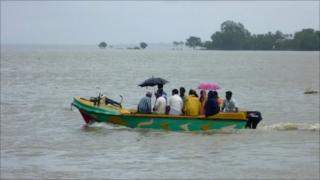 Driving into Kalmunai we saw choppy waters on both sides of the road, something like an inland sea.
The water gave way to flooded coconut plantations.
On Friday, as the Muslim faithful went to midday prayers, the rain was starting up again in this mixed Muslim-Tamil town on Sri Lanka's isolated south-eastern seaboard.
Life here has been turned upside down.
In normal times this is a land peppered with lagoons but now it is as if they have taken over the land.
Makeshift camps
By a small Hindu temple, its bell tolling, the road simply petered out, giving way to a huge expanse of water.
There was merely a line of poles indicating where the road should be.
In places like this, local people are now getting around by boat. Motorboats and simple wooden catamarans sailed past.
Not far away a few men, women and boys were peering gingerly round the houses they abandoned six days ago. The water level has gone down but not enough for them to move back in.
Youths were trying to throw out the aquatic plants that have been swept into the buildings. One picked up two snakes that ended up on top of the compound fence.
About half a dozen tortoises of various sizes had also been brought in by the waters.
Much worse, the floodwaters have spilled into the freshwater wells - the UN children's agency Unicef believes 66,000 wells have suffered this fate.
Navamani Ravichand is just one of nearly 400,000 Sri Lankans now living in makeshift camps that have sprung up in schools.
She, her husband and four children are crammed with about 400 other families into a school that now accommodates those who fled their homes.
A team of local volunteers helped by inmates cooks lunch.
There is improvised cricket while the younger children have taken over the playground - but Ms Ravichand just wonders when they will all be able to go home. Her husband, a farm labourer, has no work at the moment.
On the way inland are huge expanses of crushed paddy crops - fields destroyed by the rain and by water gushing out of burst irrigation reservoirs.
'Nothing to harvest'
Ahmed Lebbe, a 50-year-old farmer, faces ruin. "There was no rain for months," he says.
"Then it started raining and it's gone on for a month and a half without stopping. Then the reservoir burst and everything was destroyed. We can't salvage any crops."
Another farmer who also works as a teacher, Suleiman, is equally desolate.
"Now, nothing to harvest. Everything under water," he laments in English. "Other people are also like this. So many farmers are very lost. To recover this it will take five years, I think."
They cannot farm - so many local men see little option other than to try fishing in the floodwaters.
Everywhere, nets are being cast - but little substantial is being caught.